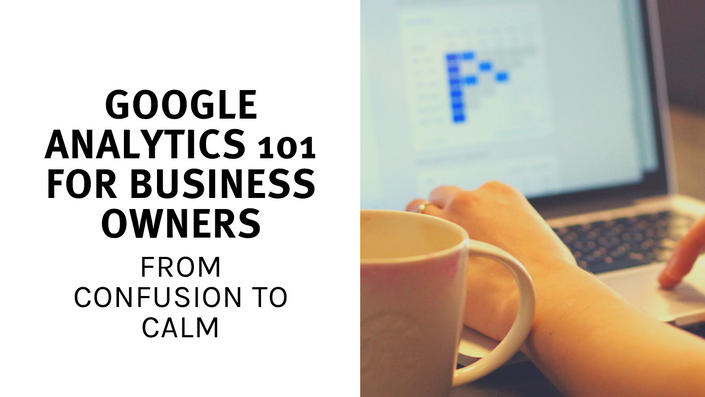 Google Analytics 101: From Confusion to Clarity
Learn the basics of the tool without going crazy and wasting your precious time on the internet.
Enroll in Course
Do you dream of:
Helping more of the people you are meant to help with your business
Focus more on the areas of your business that light you up and get your results
Growing your business (in all the right ways) big time in the next few months
As a business owner, you have so many decisions to make in your business around your marketing, content and audience. What is the next thing that will make a real different when it comes to your next big goal?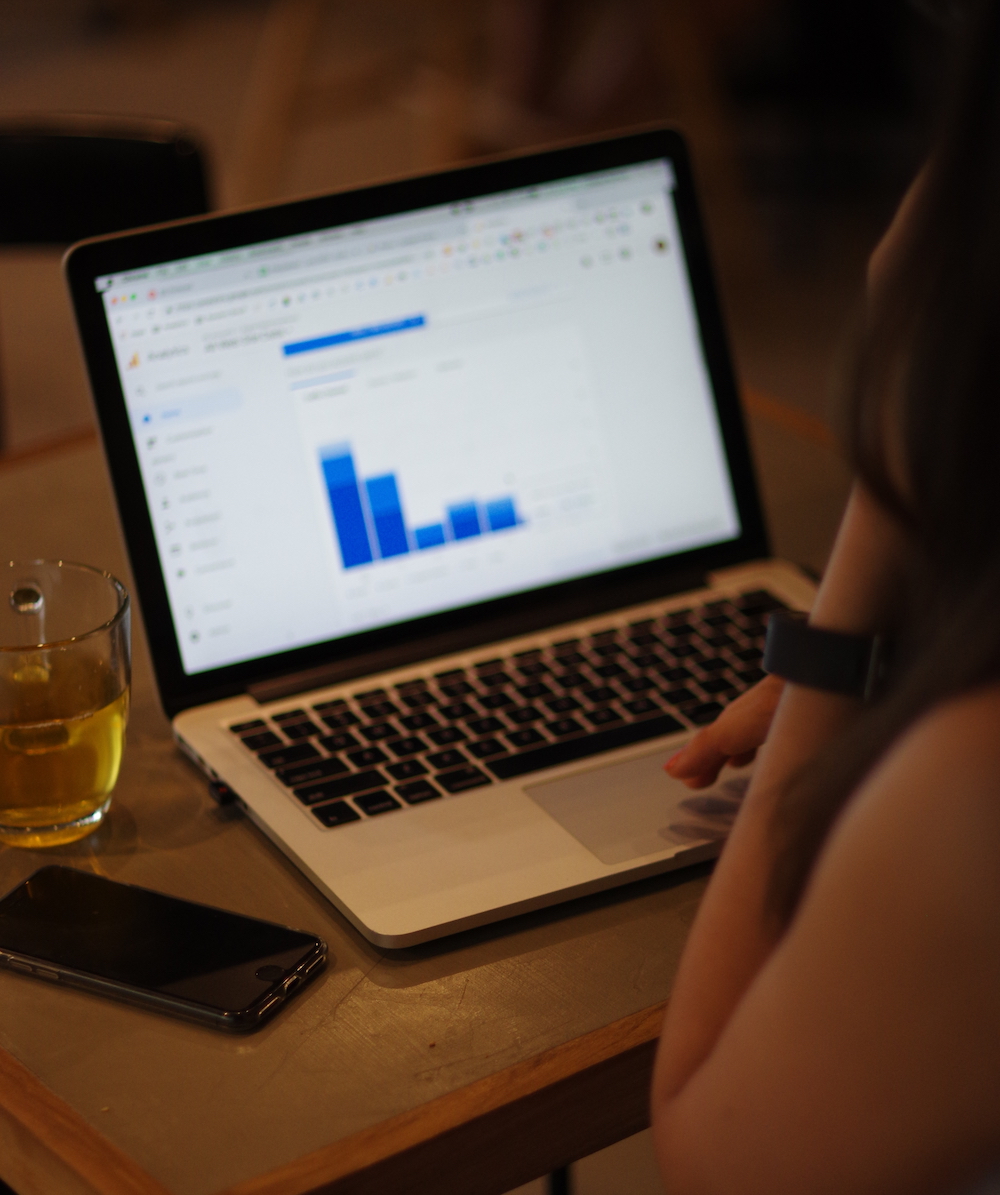 Instead of spinning your wheels when it comes to your marketing and website, imagine:
Feeling amazing with your marketing and content (in a hustle free way)
Getting clear on what is actually getting you a return when it comes to your marketing efforts
Understanding how your website is functioning as an active employee of your business
I'd like to introduce you to Google Analytics 101, my first course for Business Owners who want to learn the essentials for GA, without the confusion of overwhelm.
A little story about Web Analytics and me...


Here's the truth: I didn't even know Google Analytics existed 8 years ago. All I knew was that I was hired as a "Web Analytics Implementation Consultant" (not knowing what those words really meant) and I was going to be helping people with their websites.

I had no idea my world was about to change completely.

For the next 4 years, I worked with large corporations like Avon, Hyundai and Sears to help them setup, fix, and understand their web analytics (we were using another tool called Adobe Analytics specifically for corporations).

It quickly became apparent that this tool was a game changer for these big businesses.

When I came onto the small business scene, everything was a bit different. I noticed small businesses avoided their analytics because the ugliness and technical part of the tool freaked them out.


I totally understand why Google Analytics doesn't seem that appealing but here are some reasons why learning Google Analytics can transform your business:
Get solid numbers around what is working and what isn't working in your business when it comes to your content, marketing, and website overall
Understand ROI (Return On Investment) on all your marketing efforts which will help you stop wasting money, time, and effort on the platforms and campaigns that aren't serving you right now
The numbers don't have to feel icky or even awkward; they can actually inspire you and feed your inner creative well in new ways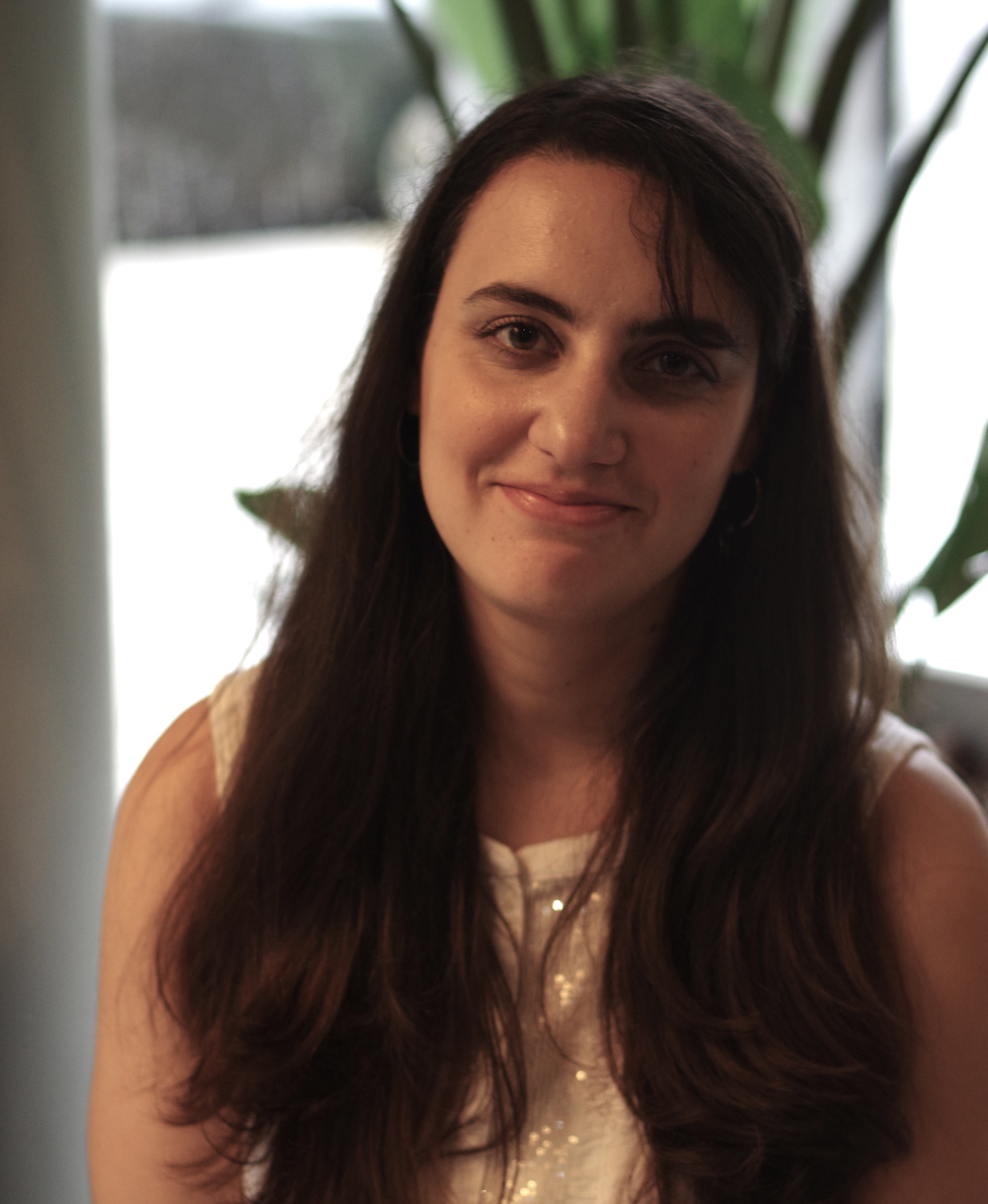 I want to help you:


- Feel good about your numbers (#overwhelmfree)

- Stop making mistakes in your launches and marketing

- Focus on what you really want to be doing in your marketing and content and understand what is working right now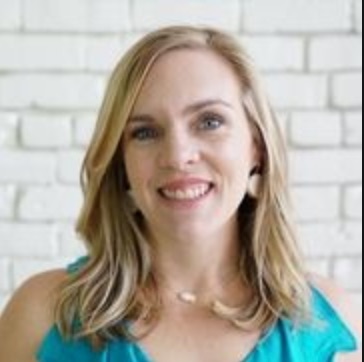 "After completing Cinthia's course I can now navigate Google Analytics with confidence. She outlined a clear process for our team for various types of reports that is easy to follow. By learning how to set goals we're also able to better track campaign conversions. Cinthia was so patient with our team's questions and very thorough / organized with the course.It's definitely a time investment but worth the effort- you'll come out of the training feeling confident with your ability to analyze data in GA"
- Suzanne Feezel, Owner, upbeatmarketingaustin.com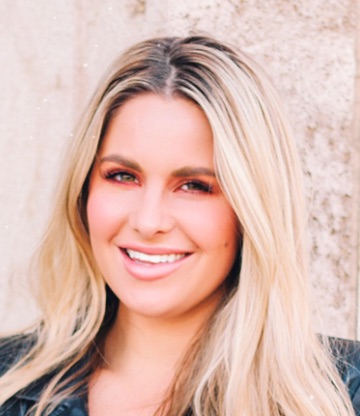 "Having Cinthia work with me on my Google Analytics was a GAME CHANGER for me. When you just start blogging, or if you're doing blogging as a hobby, it's not as important to understand all your metrics, but if you want to take your blog more seriously and make it a business, you need to know your analytics. I now can easily access and see everything, and be much more strategic about my content. Since working with her, I am getting much better rates with sponsors.
Cinthia is also a dream to work with, so kind, thoughtful and patient she makes understanding it all so easy. I would highly recommend working with her! "
- Krista Williams, Podcast Host, The Hundred Blog
The Course Modules
Here is what you learn in the GA 101 course:
Module 1: Welcome!
Let's make sure you are making full use of the course. I give you some tips for getting through the material as swiftly and easily as possible.
Module 2: Mindset + Goals
Getting your mind is really the first step of understanding Google Analytics.


In this module you learn:

Understanding how to find the "golden click" on your site
How to get clear on your business goals and how that relates to Google Analytics
My secret tip to making progress when we get to the reporting analysis part of the tool (which I know many of you worry about)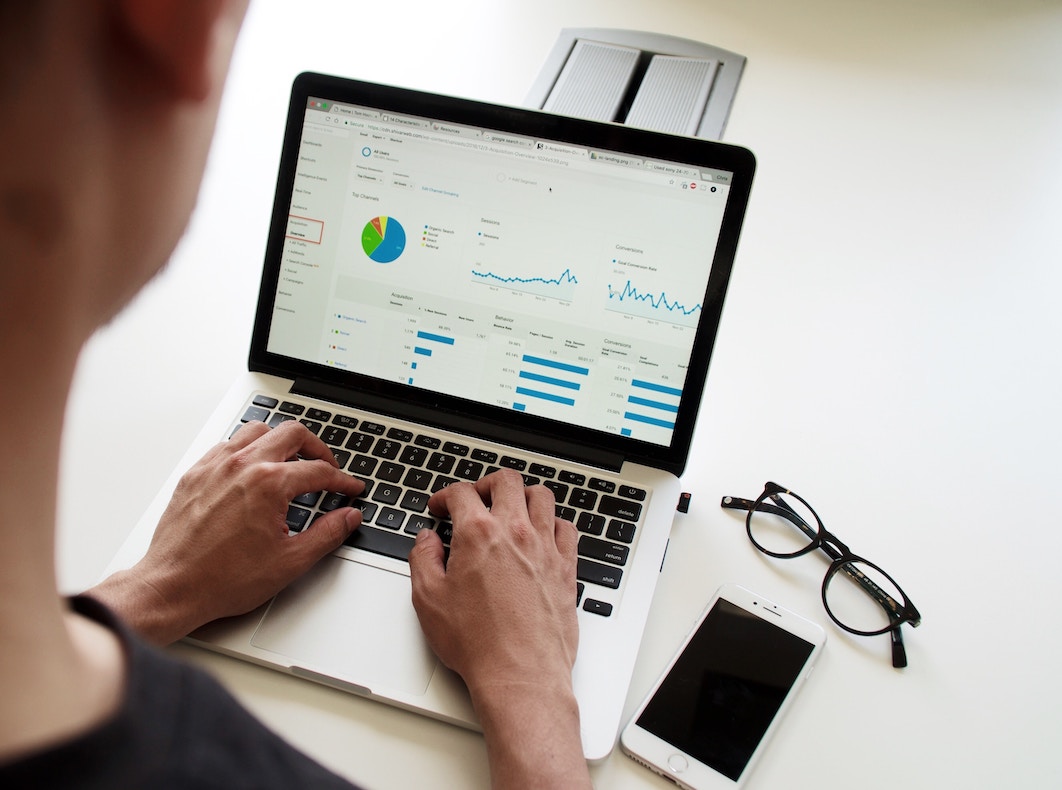 Module 3: Setup

Making sure the tool is setup correctly doesn't have to feel like a massive migraine.


This module covers:
How to check you have the right setup right now (step by step images)
How to track conversion specific to your goals in Google Analytics (including opt-ins, email newsletters, and anything else happening on your site).
Module 4: Reporting

We are getting into the reporting part of the tool in this module!

More specifically, we cover:

Marketing: Where are you getting your traffic from? And how to use it in your marketing plan
Content: what is your most popular content? And how to include that information in your content planning and brainstorming sessions.
Ideal client: who is visiting your site? And how to add that to your ideal client avatar.
Module 5: Your Data Routine
Looking at the reporting once in awhile isn't going to do much for your business. That is why creating a data routine that is easy and that you actually look forward to is important for your learning.

In this module we cover:
Setting up automatic reports in the tool (that get sent directly to your inbox!)
How often you should look at your reporting (based on your unique business routines and rhythms)
Final thoughts on having a continuous conversation with Google Analytics
BONUSES!!
You get two extra training calls! These are part of a challenge I did and are 10 - 20 minute video trainings where I share my screen and walk you through step by step how I analyze the data, with lots of examples and extra explanations of the metrics.
Bonus Video #1 : Sample Marketing Analysis (Data-athon Call #1) - Value : $150
Bonus Video #2 : Sample Content Analysis (Data-athon Call #2) - Value : $150

Topics that are covered within bonus calls:
Step by step on how to analyze your marketing data when you don't have Goal data coming in yet
How to analyze how your website content is performing
My tips for looking at your data without getting overwhelmed
Understanding where Users are landing on your site and where they are Bouncing
Using your date range correctly in the reporting
How to analyze Bounce Rate in your reporting and what is the industry standard for Bounce Rate
Advanced Tip: Using Segments in Google Analytics to filter your data
And many more!

Total value of bonuses: $300
Course Curriculum
Welcome
Available in days
days after you enroll
Mindset
Available in days
days after you enroll
Tool Setup
Available in days
days after you enroll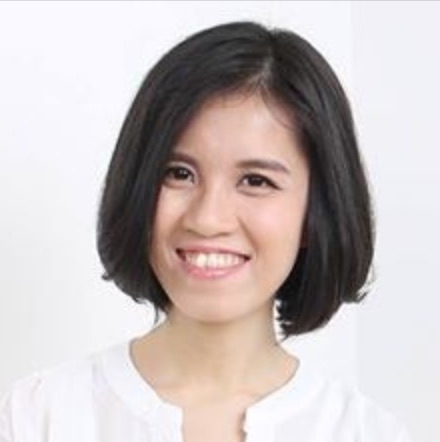 "Cinthia knows Google Analytics like the back of her hand and she turns something that sounds technical and intimidating into a topic that's easier to understand."
- Kathie , https://www.bluchic.com
What I believe to be true about learning Google Analytics (and a sneak peak of how I teach):


The process of learning Google Analytics doesn't have to be complicated or hard.
You don't need to be a number's person to "get it". This course is specifically designed for Business Owners who are tired of feeling overwhelmed by the tool.
Not all reports in Google Analytics are needed for you to get the most from the tool. I teach you a handful of essential reporting and metrics that will change how you view the tool
Your Instructor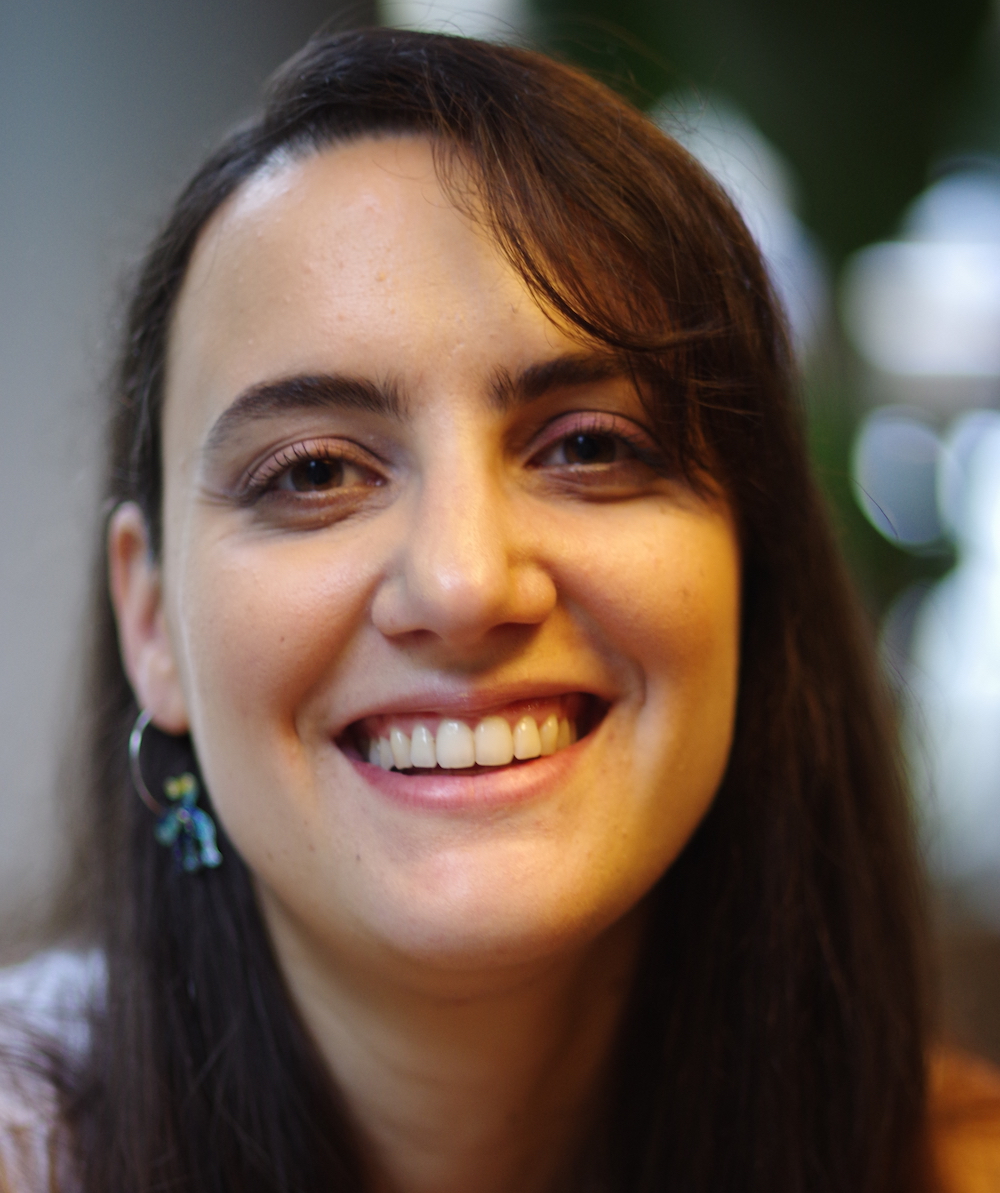 Hi there! If you don't know who I am...I'm Cinthia!


I started working in Web Analytics a little over 8 years ago with large corporations like Avon, Sears, and Hyundai on both the technical code side as well as the business part of their Web Analytics strategy.

Once I started my own business, I quickly became obsessed with SEO and realized that it was the perfect combination of creativity and data. While my clients chronically stressed and avoided looking at their SEO, I realized that I continue to be fascinated and curious of all the moving parts that happen today to get ranked in Google.


Although some parts of doing SEO do require coding knowledge and help from a Web Developer or SEO expert, I believe that there is a lot that can be done by a small business owner and their team to improve how their site is being found by Google.


I created this course because I love teaching entrepreneurs how to make their websites active components of bringing in new leads, growing their audience, and sharing their talents with the world.


I am passionate about teaching women biz owners and health and wellness about SEO and help them reach all their big goals.


I can't wait to teach you about SEO!

I currently run a SEO company called Digital Bloom IQ, serving Health and Wellness businesses with their SEO and data needs.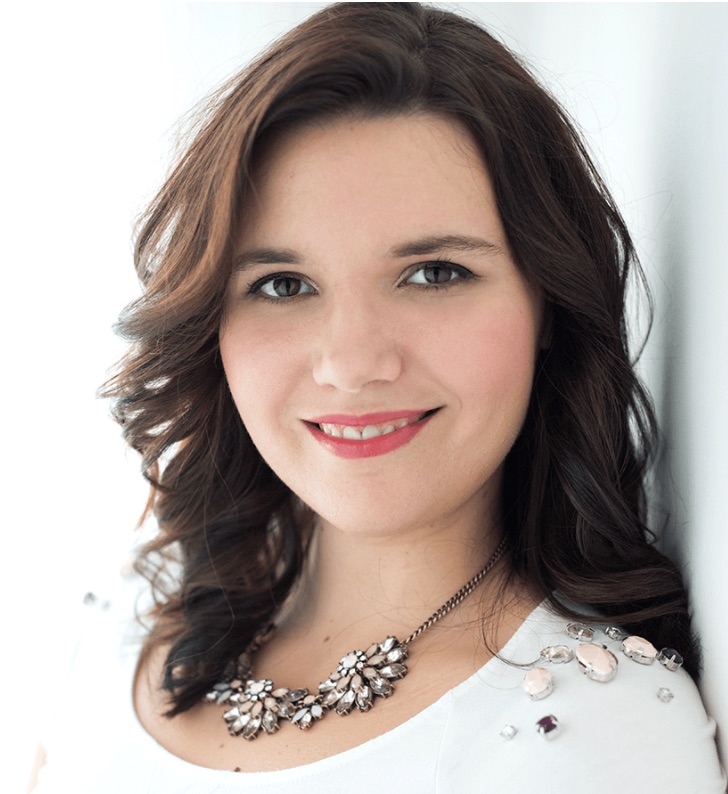 "Cinthia is obviously very knowledgeable about Google Analytics - but what's even more important is that she is able to break down such a complex and seemingly overwhelming topic into totally understandable pieces.
Ever since I took her course and had a strategy call with her, I know my way around GA and my clients love that I can make sense of their data for them. GA is a powerful tool to have in your toolbox when it comes to gaining clarity about your business and assessing your growth - so if you ever thought about taking a closer look at your data, Cinthia's course provides an excellent starting point and a rock-solid foundation. I can't recommend it enough!"
- Juci , Code and Glitter
How It Works:

One you sign up, you will first need to register your information in Teachable (or login if you already have an account in Teachable).


After this, you will be able to access the course and all the lessons (and have unlimited replays).


You have access to all the content going forward, even as I update and improve the course.


This course gives you very specific reporting instructions (via images and text) that help you walk through your own data step by step.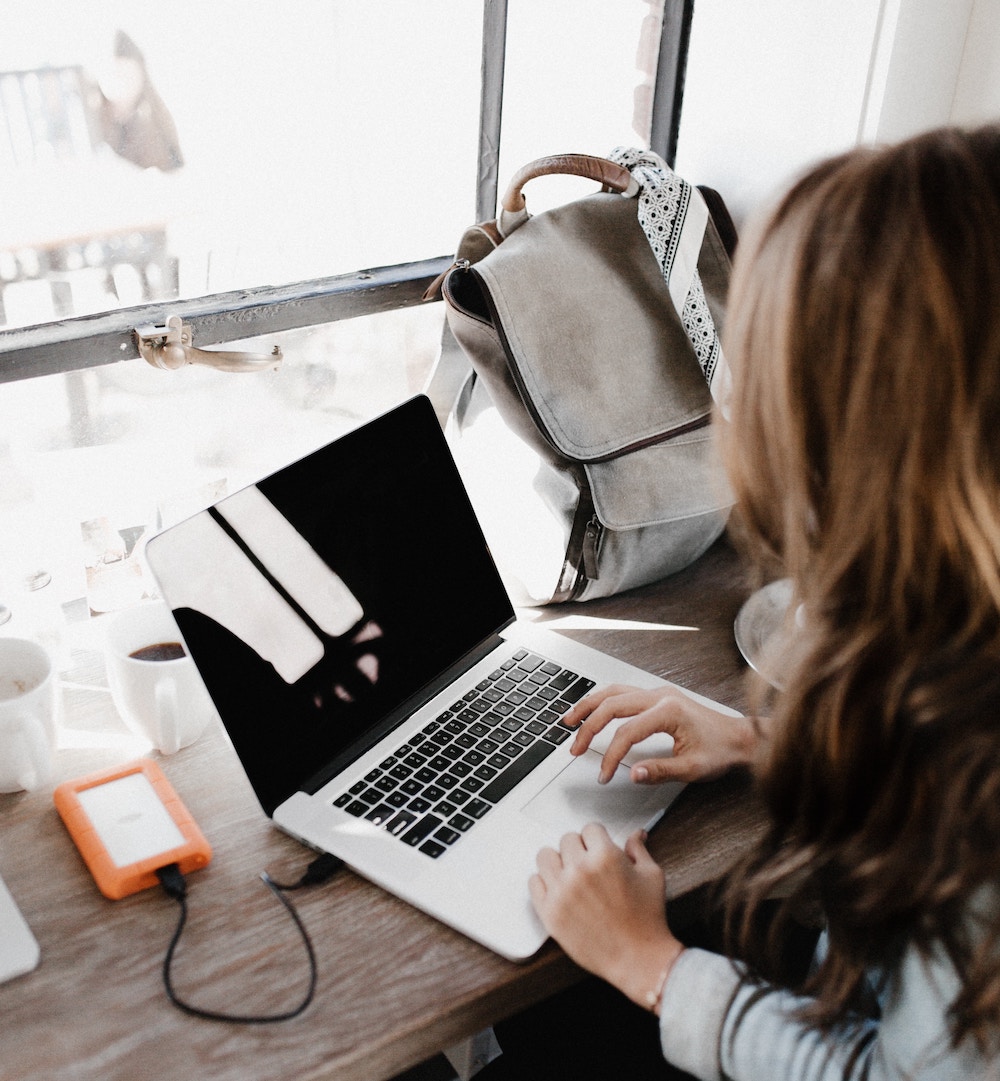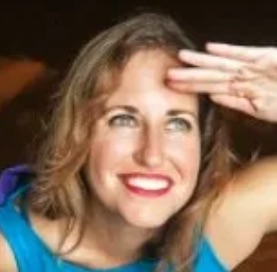 "Making decisions around your marketing and content creation for new offerings without using your data is like trying to make your way across a new city without a map -- you can do it, but you'll probably miss out on the highlights and have a lot less fun than if you'd done a little research. Why wouldn't you wanna use all the resources possible to give your audience what they want and make more money following your passion? That's what understanding your analytics allows you to do."
- Natalie Real, Website Superhero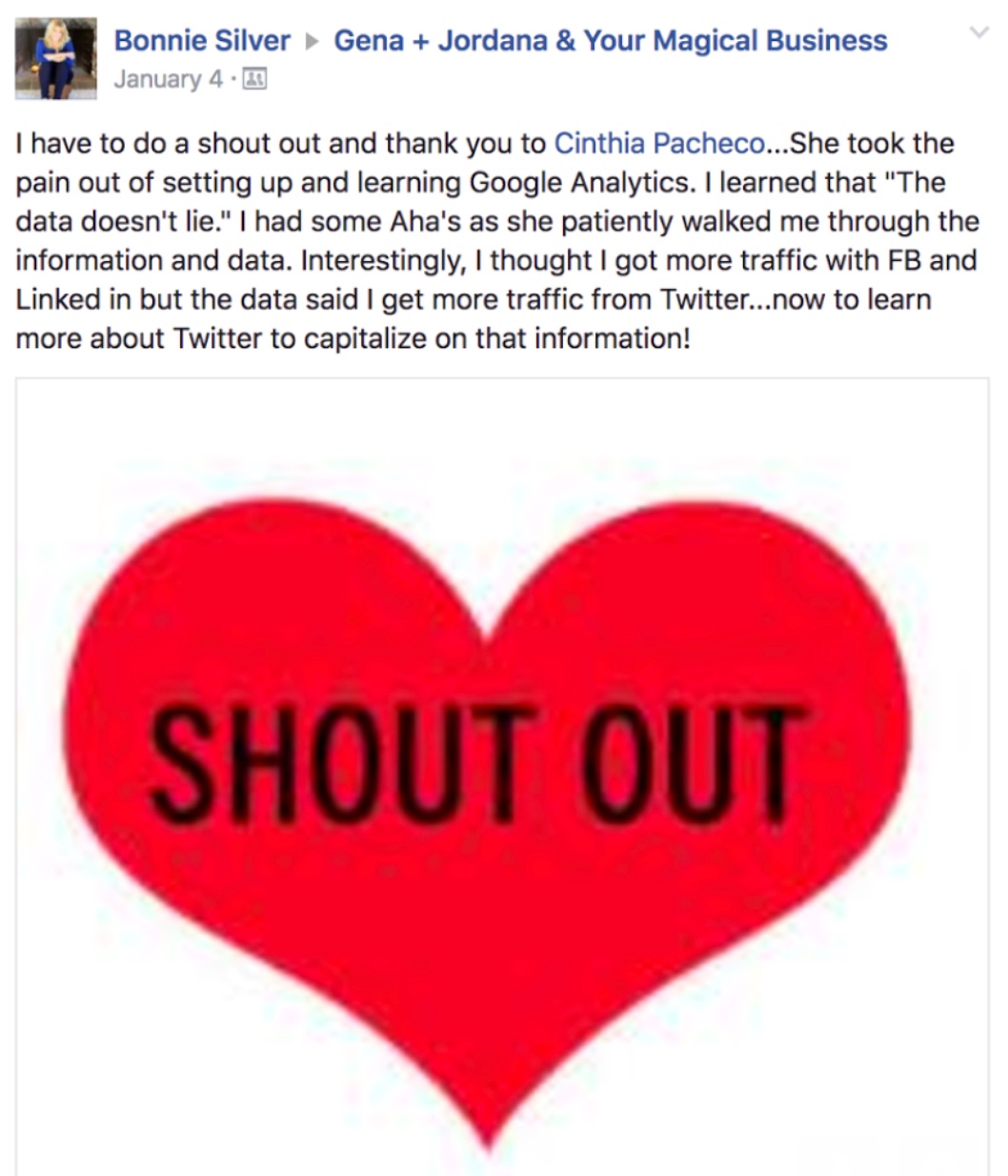 Frequently Asked Questions
When does the course start and finish?
The course starts now and never ends! It is a completely self-paced online course - you decide when you start and when you finish.
How long do I have access to the course?
How does lifetime access sound? After enrolling, you have unlimited access to this course for as long as you like - across any and all devices you own.
What if I am unhappy with the course?
We would never want you to be unhappy! If you are unsatisfied with your purchase after completing all the lessons, contact us in the first 30 days and we will give you a full refund.
I'm just starting my business - is it a good time for me to take this course?
It's never too early to start learning Google Analytics. If you have a site but not a lot of data, you can still use what you have to start to get to know the tool and get more and more comfortable. Also, locking into this current price is sweet.
I'm a busy person. What if I don't have time to take the course right now?
You can take the course at your own pace and have all the contents for life (even as I update and add to the course). I've designed this course for busy business owners who don't want to learn all the bells and whistles of Google Analytics. That is why I show you the essential reporting that will lead to the most impactful business decisions.
Do I really have to learn GA for my business?
Here's the truth - no. You can keep doing what you are doing and not learn Google Analytics. But the longer you wait, the more your data will get complex and at some point, someone will ask you about your Google Analytics and you won't know what to tell them. It is good to start when you have smaller numbers because it becomes easier to interpret when you get to the bigger stuff.
What is the difference between this and your other "Analytics as a Service" course?
This course is specifically designed for Business Owners who don't know code and don't have any yearning to learn all the bells and whistles of the course. Instead, they want to go straight to the reporting and concepts that will give them real answers in their business. The "Analytics as a service" course is for Web Developers, Web Designers, or VAs who want to learn Google Analytics as a profitable skill in their business. You can check it out here: https://digitalbloomiq.teachable.com/p/digimorph-google-analytics-course/
I'm using another web analytics tool - can I still learn something from this course?
Yes - although this course is specifically designed for Google Analytics, I teach a lot of concepts and ideas that can be applied to any analytics tool. Especially, how I teach you to line up your goals with specific metrics that can be applied to different tools. Nonetheless, all the examples and screenshots are based in Google Analytics.
I'm bad at numbers - can I still learn Google Analytics?
So do you have to be a math wiz to learn GA? Absolutely not. A willingness to learn and get a bit uncomfortable is all you need.
What can I expect from this course?
- Clear step by step instructions for using Google Analytics actively in your business decisions. - Less overwhelm and more clarity around reporting. - Setup goals in Google Analytics to customize reporting. - Build a routine around looking at your Google Analytics consistently going forward in your business.
Are you offering payment plans?
Yes! Payment plans are included on this sales page.
Is this course just for online business owners?
No - anyone who has a website and wants to use it actively to grow their business can use this course.
Ready to get started with your Google Analytics? Click below to get started.